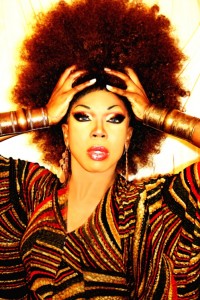 Bebe Zahara Benet, born Nea Marshall Kudi Ngwa, hails from France by way of West Africa's Republic of Cameroon. As a child in Cameroon, Marshall realized his affinity towards make-up, clothes and hair were considered taboo. There was no drag culture in Cameroon. Marshall made his way from Cameroon to the runways of France. When one of the female models failed to arrive, Marshall stepped out of his trousers and into an elegant evening gown then walked the runway impersonating a female. It was at that moment when the gorgeously-graceful, creatively-elegant, Bebe Zahara Benet was born.
BeBe was the winner of the inaugural season of RuPaul's Drag Race and has used her platform as America's Drag Superstar to educate individuals on the pride and dignity found in the art of drag and letting her audience know that dressing up for a living does not make him less of a man. She challenges people to stand tall and find excitement in what they do.
Official Website – http://www.bebezaharabenet.com
Bebe on YouTube – http://bit.ly/PGoo46
Watch BeBe's newest video 'Face'

NOW ACCEPTING SPEAKING DATES.  Please contact Campus Pride  by calling 704-277-6710 ext 0 or by completing the following form.

Oops! We could not locate your form.