Your transgender athletes and sports participants face unique obstacles and challenges. How can you create a safe, inclusive campus climate for your trans athletes?
Paperclip Communications hosts Campus Pride and a team of college sports experts, as they break down current concerns and show you practices you can implement to serve, protect and retain your transgender athletes.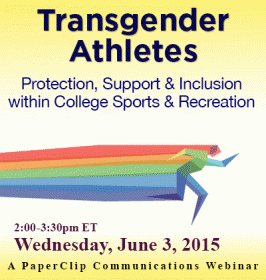 Recreational facilities — privacy considerations — medical information — sex discrimination policies and compliance with federal guidance are just a few of the complex issues to understand and address in supporting your trans athletes.
During the interactive webinar, you will hear about the implications of Title IX and the evolution of NCAA and NIRSA policies surrounding trans athletes, and how to ensure you protect and support your transgender students participating in campus intercollegiate athletics & collegiate recreation.
As a bonus, you will learn about the new Campus Pride Sports Index that provides national benchmarks for you to implement on your campus in your efforts for transgender inclusion in college sports.

Panelists:
Shane L. Windmeyer, M.S., Ed. serves as the cofounder and executive director of Campus Pride. (Click here for full bio)
Erin Buzuvis currently serves as a Professor of Law at Western New England University in Springfield, MA. (Click here for full bio)
Chris Mosier currently serves as the Executive Director of GO! Athletes and founder of transathlete.com, PGPs: he/him/his. (Click here for full bio)
Wendy Motch currently serves as Director, Assessment, Sports Equity and Strategic Initiatives at UCLA and Co-Chair for the NIRSA Commission on Equity, Diversity, and Inclusion. (Click here for full bio)
Topics Covered:
---
As a result of this webinar, you will take away:
Current data and information related to the transgender athlete student population; including the obstacles and challenges they face. Use this data to make informed decisions!
Personal stories from trans athletes and their real-life experiences that will allow you to identify intentional strategies you can integrate into your campus community to better support your trans athletes.
Key Title IX issues and implications related to transgender inclusive college sports; including specific information you need to know about current NCAA and NIRSA policies and procedures to ensure your institution is in compliance.
A detailed list of ten benchmarks that will guide you and your campus in ensuring trans inclusion in your sport offerings.
Guidance on using the NEW Campus Pride Sports Index on your campus.
Updated resources and support services you can use as a foundation for your campus' efforts to provide trans inclusion support, policies and climate.
What You Get:
---
Convenient Access to the 90-minute Live Event:
Wednesday, June 3, 2015 | 2-3:30 PM ET

Webinars are handled like a large interactive conference call, but in a more controlled, radio-program-like environment. Simply dial the 800 number* from your phone, copy/paste link* in your browser and follow along on your computer! Gather your staff around your conference table's speakerphone and computer — then sit back, listen and watch the presentations and join the lively Q&A session.


*The 800 number and link will be available in a PDF download immediately following check out.


Event Recording & Materials on CD: 
You'll receive two multimedia discs* containing the full audio presentation, PowerPoint and handouts provided by the presenter(s) and recording of the question and answer session facilitated during the live event. Add the webinar recording to your professional library for use in future campus training and development initiatives.
*CDs will arrive 7-10 business days after the live event date.
Certificate of Completion for Each Participant:
After attending this webinar, each participant will receive a printed certificate of completion.


Pricing Information:
---
$389
Invite your entire staff to participate for this one low price! (one location)
Order includes the event recording and all materials on CD.

Can't make the live event date? Click here to order the CD only.


Campus License Option: 
Click here to purchase this webinar with one-year unlimited distribution and use on your institution's internal network/server.