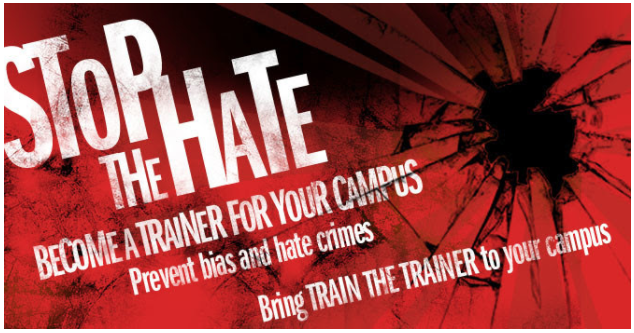 Stop The Hate Train the Trainer
Napa Valley College
2277 Napa-Vallejo Highway
Napa, California, 94558
Building or Room Number:  TBA
Date(s):  April 10 through 12, 2017
Time of engagement/schedule:
Monday, April 10, 2017 8:30AM to 5:30PM
Tuesday, April 11, 2017 8:30AM to 5:30PM
Wednesday, April 12, 2017 8:30AM to 2:30PM
THIS EVENT IS OPEN TO ALL CAMPUSES !

Coming Soon!
Price:  $395 until March 10, 2017, $495 after March 10, 2017.
Stop The Hate is an educational initiative of Campus Pride and supports colleges and universities in preventing and combating hate on campus as well as fostering the development of community. The national program serves as the premiere source of anti-hate educational resources for higher education institutions and campus communities.
The program was founded by Shane L. Windmeyer and was developed in partnership with the Anti-Defamation League, Association of College Unions International, The Southern Poverty Law Center, the Center for the Prevention of Hate Violence, the Matthew Shepard Foundation, Wilbron Institute and Campus Pride.
The Stop The Hate program reflects Campus Pride's commitment to provide social justice tools for combating bias and hate crimes in all its forms. Stop The Hate is dedicated to provide the necessary resources and educational training to combat hate on college campuses; and to actively seek partnerships and collaboration among various organizations with similar concerns to address bias and hate behaviors.