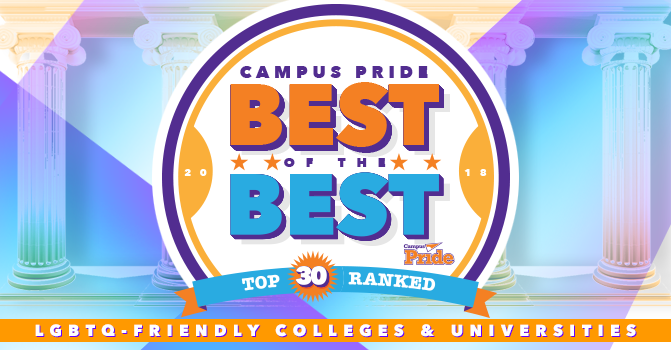 Campus Pride's 2018 Best of the Best LGBTQ-Friendly Colleges & Universities
HOW DID WE CHOOSE THE BEST OF THE BEST?
Campus Pride chose the thirty campuses this year based on their overall ratings on the Campus Pride Index and specific LGBTQ-inclusive benchmark measures.In order to be in the "Best of the Best" listing, an institution had to score the highest percentages in the LGBTQ-friendly benchmarks for policies, programs and practices. In addition, the Top 5 community colleges and two year colleges were the highest overall rating for these types of campuses.
The Campus Pride Index, currently 330+ campuses, is the premier national benchmarking tool which self-assesses LGBTQ-friendly policies, programs and practices. The tool is free of charge and can be found online at CampusPrideIndex.org.  Campus Pride also launched three years ago, the Campus Pride Sports Index which measures LGBTQ progress in athletics and recreation online. The tool is slowly growing in sports participants and can be found online at CampusPrideSportsIndex.org
WHY THIS LISTING IS VALUABLE TO LGBTQ YOUTH & FAMILIES?
For the last decade, Campus Pride continues to be the most trusted, reliable educational resource for students and families to find the best campuses for LGBTQ inclusion and safety. The organization works alongside students, faculty, staff and administrators at 1400+ campuses annually to help support and improve the quality of campus life for LGBTQ people.
"LGBTQ youth and families want to know what campuses are doing when it comes to inclusive policies, programs and practices – not only for four year colleges but also two year colleges. The 'Best of the Best' highlights the Top 30 this year for four year colleges and the Top 5 for two year and community colleges,'" said Shane Windmeyer, executive director of Campus Pride and creator of the Campus Pride Index. "Campus Pride is proud at the growing number of campuses that are improving their LGBTQ campus climate and wanting to be the "Best of the Best" each year."
WHERE CAN I FIND THESE & OTHER LGBTQ-FRIENDLY COLLEGES?
Many of these Top campuses and others on the Campus Pride Index will be featured at the Campus Pride upcoming LGBTQ-friendly college fairs in Boston, MA, Los Angeles, CA and New York, NY this October and November. These fairs are the place for LGBTQ-friendly campuses to recruit openly LGBTQ and ally students to their campus and tout their LGBTQ inclusion and safety. Learn more online at CampusPride.org/CollegeFair
FIND THE FULL LIST at CampusPride.org/2018BestoftheBest
Any questions or more information, please contact Campus Pride by phone at 704-277-6710 or by email info@campuspride.org