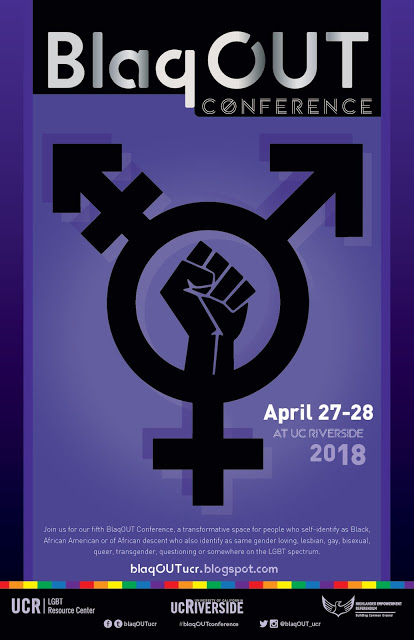 The UCR LGBT Resource Center is pleased to announce the 5th BlaqOUT Conference on April 27-28, 2018 @ University of California, Riverside.
We cordially invite all folks who self identify as Black/AfricanAmerican or of African Descent and as Same Gender Loving, Lesbian, Gay, Bisexual, Transgender, Queer, Questioning or somewhere on the LGBTQ Spectrum, to apply to attend.
If you are an ally to our communities, we encourage you to attend one of the regional or national LGBTQ Con
ferences scheduled in 2018. Please check our blogpost archive for a list of upcoming conferences.
Through this conference, we hope to create safe and courageous spaces that foster the discussion of issues relevant to those who self identify as Black/African American or of African Communities on the LGBTQ Spectrum. Various Workshops, keynotes, and activities will be designed to unite our community and equip us with the resources necessary to face issues that affect us as marginalized individuals.
Please apply by March 1, 2018
Apply to Attend:  https://www.surveymonkey.com/r/BlaqOUT2018
Submit a Workshop: https://www.surveymonkey.com/r/BlaqOUT2018Workshop
Once you have been selected for the BlaqOUT Conference, you have until April 13th, 2018 to pay registration fees or your spot will be given to another individual. Registration is $20 with a T-Shirt included in the registration fee. If you do not want a T-Shirt, Reduced Registration is $10.
Questions? Email blaqoutucr@gmail.com or LGBT Resource Center Assistant Director Toi Thibodeaux at toi.thibodeaux(at)
ucr.edu
 or 951-827-2267.