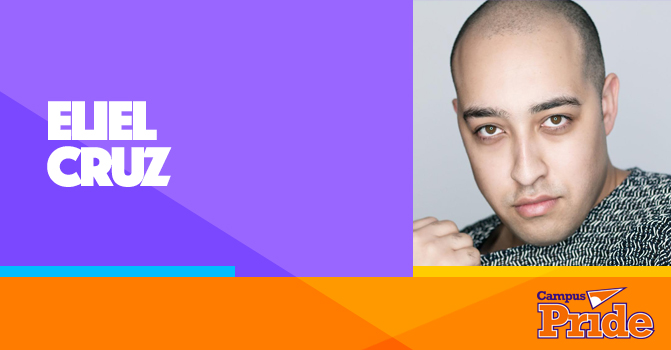 Eliel Cruz is a prolific speaker and writer on religion, LGBT issues, and culture. A leading bisexual activist, Cruz has spoken across the country on the issues pertaining to the bisexual community, media representation, as well as faith and sexuality at universities and conferences alike. His work has been published in Huffington Post, Upworthy, NBC, Mic News, Teen Vogue, Daily Dot, Everyday Feminism, Washington Post, Sojourners, DETAILS, GQ, Quartz, and Rolling Stone.
Cruz is the co-host of The Agenda, with noted essayist and journalist John Paul Brammer, a weekly show on Facebook and Twitter live discussing the top LGBT political and pop culture stories of the week. Cruz is also the creator of #FaithfullyLGBT, a hashtag photo series and organization promoting the stories of LGBT people of faith. The #FaithfullyLGBT photo series was featured in HuffPo, NewNowNext, Queerty, South Florida Gay News, Sojourners, and Buzzfeed.
In addition, Cruz is the former Executive Director of Faith In America, an organization dedicated to ending religious based bigotry towards LGBT people. He has done faith organizing work for five years.
Cruz is the co-founder and former president of Intercollegiate Adventist Gay-Straight Alliance Coalition, an organization that advocates for safe spaces for LGBT students at Seventh-Day Adventist colleges. He has a BBA & BA in International Business and French Studies from Andrews University.
Speaker Keynotes
7 Ways to be an Awesome Bisexual Ally
Label Wars: Bisexuality Vs. Pansexuality
Why Is Bisexuality In Media Important?