Aug 12 2013 in News & Updates, Shane L. Windmeyer, Shane Windmeyer, Transgender by CampusPride
Gender-Inclusive Housing ban jeopardizes campus safety of LGBT students, specifically transgender student populations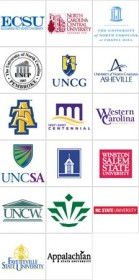 Last Friday, August 9, 2013, the University of North Carolina became the first state-wide university system in the country to pass a policy expressly prohibiting Gender-Inclusive housing. The UNC Board of Governors voted by consent last week to pass a ban that would prohibit implementation of Gender-Inclusive housing that had been passed by UNC Chapel Hill last Spring — and the new policy will ban such housing options at all 17 of its campuses.
The UNC Board of Governors new policy reads:
The constituent institutions shall not assign members of the opposite sex to any institutionally owned and operated dormitory room, dormitory suite, or campus apartment unless the students are siblings, parent and child, or they are legally married. This policy applies to housing assignments beginning with the fall 2013 semester.
Campus Pride was in attendance at the meeting where UNC students were not allowed on the agenda. Nor did the UNC Board of Governors hear any research related to how the ban negatively impacts campus safety.  Based on Campus Pride national research conducted by Dr. Sue Rankin, "trans-spectrum students are already an at-risk population."  She also writes, "The Campus Pride 2010 State of Higher Education report was one of the first national studies to examine the climate on college campuses. The study involved more than 5,000 LGBTQ students, staff, and faculty and found that almost a quarter of the LGBTQ respondents and about one third of the trans-identified respondents had experienced harassment or violence on campus because of their sexual or gender identity."
According to Campus Pride, the UNC Board of Governors clearly do not have the safety of all students in mind in passing this policy to ban Gender-Inclusive housing, "Banning gender-inclusive housing on the seventeen UNC system campuses does not serve the safety of any student. It is a dangerous, reckless and unsafe to take such a broad sweeping action," said Shane Windmeyer, Executive Director of Campus Pride. "Research shows that LGBT students experience heightened rates of harassment and discrimination at our colleges and universities, including in campus housing. Students should not have to feel unsafe or be fearful where they eat, sleep, and live on campus."
Despite the ban passing, Campus Pride is continuing its work supporting students in the UNC system and creating necessary resources to support the expansion of Gender-Inclusive housing across the country.   This week Campus Pride launched its Trans Policy Clearinghouse which is the most up-to-date resource of its kind with trans campus policy and safety issues.  The clearinghouse is updated regularly by Dr. Genny Beemyn, a noted scholar on trans issues in higher education and the Director of the University of Massachusetts Amherst's Stonewall Center.
Learn more about the ongoing work at UNC and join Campus Pride's Action Network to support our work on your campus and, or in your region.