Aug 3 2013 in Campus Pride, Community Organizing, Leadership, News & Updates, Press Releases, Transgender by CampusPride
UNC students denied from being on agenda for UNC Board of Governors meeting; Also requests by Campus Pride for moving the vote to September Board Meeting as way to get UNC student input and to share research about negative impact to UNC System have been dismissed citing board procedure
(Saturday, August 3, 2013) Campus Pride has confirmed that the UNC Board of Governors meeting on Friday, August 9 will be held in the Board Room of the Spangler Center on the campus of UNC Chapel Hill and the proposed policy is Appendix BBB on the Agenda.  The meeting is open to the public. Repeated requests for UNC students to be on the agenda have been denied along with subsequent suggestions to move the agenda item to the September 13, 2013 meeting date to allow for ample discussion, UNC student input and available research as to the harms to campus safety.
The UNC Board of Governor proposed "Campus Housing" policy to the UNC Policy Manual reads:

The constituent institutions shall not assign members of the opposite sex to any institutionally owned and operated dormitory room, dormitory suite, or campus apartment unless the students are siblings, parent and child, or they are legally married. This policy applies to housing assignments beginning with the fall 2013 semester.
"I believe the UNC Board hopes this action will not create any controversy; however, they are mistaken and out of touch with today's college student," said Shane Windmeyer, Executive Director of Campus Pride.  "Banning gender-inclusive housing on the seventeen UNC system campuses does not serve the safety of any student. It is dangerous and reckless to take such a broad sweeping action. Research shows that LGBT students experience heightened rates of harassment and discrimination at our colleges and universities, including in campus housing. Students should not have to feel unsafe or be fearful where they eat, sleep, and live on campus."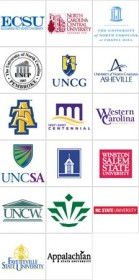 According to Campus Pride, the UNC Board of Governor "Governance Committee" voted in favor of the proposed policy a month prior to ban gender-inclusive housing options from the UNC system.  The proposal will now be sent onto the UNC Board of Governors for a final vote on Friday, August 9.  The meeting is set to start at 9 a.m.; however, the business of the standing committees is not set to start until 12:30 p.m.  More information is available in the "Letter to Special Guests of the University" and the tentative UNC Board of Governors Agenda 8 09 13 BOG agenda.
Campus Pride issued this North Carolina Call to Action last week and has submitted the following Campus Pride testimony which cites the research as to the harms to student safety and campus climate. The UNC Board of Governors leadership stated that the testimony would be provided as part of the meeting record and minutes for the UNC Board of Governors.
Campus Pride is the leading national education organization for LGBT and ally student leaders and campus groups working to build future leaders and create safer, more LGBT-friendly colleges and universities.