Mar 3 2014 in Campus Pride, News & Updates, Shane L. Windmeyer by Rebby Kern
The Ben Cohen StandUp Foundation and Campus Pride Take a Stand against bullying
Challenge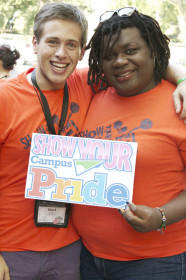 For college freshmen, the first few weeks on campus are an exciting transition to university life. They are full of new experiences like moving into a dorm and choosing a major. However, other experiences can be daunting, especially if you are navigating new classmates' perceptions and opinions on sexual orientation.  Along with Introduction to American Literature, lesbian, gay, bisexual, transgender, queer, questioning, intersex and ally (LGBTQIA) students are introduced to the reality they are responsible for their own safety.
The Ben Cohen StandUp Foundation partners with Campus Pride to create a safe learning environment for all students. According to Shane Windmeyer, executive director of Campus Pride, LGBTQIA students commonly experience threats of harassment, discrimination and bias. Although some universities have implemented LGBTQIA-friendly policies, Windmeyer says 80-90 percent of colleges in the U.S. still do not have official inclusion policies. The surge of hate crimes and high-profile student suicide cases, such as Rutgers student Tyler Clementi, illustrate the profound need for change. Without school administrations taking steps to secure campus safety, it is the LGBTQIA students themselves who are responsible to create their own, safe learning environments.
Mission
Campus Pride is the national voice for LGBTQIA college students, created for, and driven by, student leaders. It envisions campuses and a society free of prejudice, bigotry and hate. Campus Pride provides leadership development and organizational support to students and offers dozens of resources including the Campus Pride index of LGBTQIA friendly schools, the Lambda 10 LGBTQIA fraternity and sorority member program, the 'Stop the Hate' anti-harassment program and the 'Voice in Action' leadership award.
Approach
The Ben Cohen StandUp Foundation is Campus Pride's strategic, long-term partner. The StandUp Foundation collaborated with Campus Pride to create Camp Pride, an annual summer leadership academy for LGBTQIA college students. The five-day summer camp brings together more than 70 college students from campuses across the country to learn valuable leadership skills, campus organizing, networking, coalition building and social justice values. A handful of LGBTQIA college athletes also participated in the camp and became part of the inaugural Campus Pride StandUp Ambassadors program.
In fall 2012, the StandUp Foundation teamed up with Campus Pride to publish and disseminate the 2012 LGBTQ National College Athlete Report. The report is the most comprehensive national collegiate research of its kind, sharing the experiences of nearly 400 self-identified LGBTQIA athletes and providing necessary resources for further progress on LGBTQIA issues in college athletics.
Insight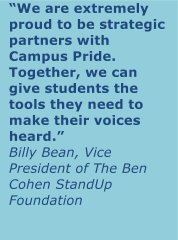 Campus Pride works to give LGBTQIA students and athletes a voice, and empower them to create positive change. Executive Director Shane Windmeyer believes teaching students to stand up and advocate for themselves is critical to creating safe campus environments. "Campus Pride is all about building students' own leadership skills and confidence," said Windmeyer. "We try to assist students in building their self-esteem and becoming empowered, strong leaders."
Results and Impact
To date, Campus Pride has provided assistance, services and programs to 1,250 organizations across America. The Camp Pride summer leadership program is in its seventh session of successfully bringing together hundreds of students and advocates. The 2012 LGBTQIA National College Athlete Report is starting conversations and is the definitive guide to LGBTQIA college athletic issues. Campus Pride services and programs continue to guide college campuses to adopt inclusion-based policies and build environments of acceptance.
However, when Windmeyer thinks about the biggest impact of Campus Pride, he said he focuses on the students who have been impacted by the programming. "I think the future of Campus Pride is really about our young people," said Windmeyer. "One of our students from a few years back is in the U.S. Navy, and another is the head of an equality organization. Who knows what's next?" Going to college gives students the opportunity to gain an education. Getting involved with Campus Pride gives students the opportunity to gain confidence, stand up to bullying and become change agents ready to create a more inclusive campus, and world.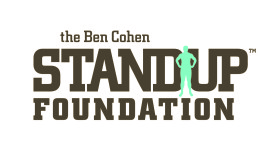 The Ben Cohen StandUp Foundation, Inc.
154 Krog Sreet, Suite 100
Atlanta, GA 30307 USA
info@standupfoundation.com
Campus Pride is the leading national educational organization for LGBTQ and ally college students and campus groups building future leaders and safer, more LGBTQ-friendly colleges and universities. The organization provides resources and services to thousands of college students and nearly 1400 campuses annually. Learn more online at CampusPride.org.