Dec 3 2013 in Campus Pride, Community Organizing, News & Updates, Press Releases, Shane Windmeyer by Rebby Kern
Donate on Tuesday, December 3 to Campus Pride and join the #GivingTuesday global movement. Help Campus Pride raise money to support LGBT youth through programs, scholarships and safer campuses.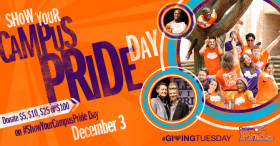 Campus Pride has joined #GivingTuesday, December 3, as a counter narrative to Black Friday and Cyber Monday reminding us of the spirit of giving this holiday season. Campus Pride has developed the "Show Your Campus Pride Day" campaign in tandem with #GivingTuesday as a way for LGBTQ youth to share the value of the work Campus Pride does throughout the United States.
By participating in Show Your Campus Pride Day on #GivingTuesday donors are able to support LGBT youth. Every dollar benefits youth programs and services, fund scholarships and create safe networks to provide leadership tools for LGBT & ally students who help to create more inclusive college campuses. Donors are able to give $10, $15, $25, $100 or more to Campus Pride on December 3.
"Campus Pride saw a great opportunity to team with
#GivingTuesday
, a movement that reminds us how to give more meaningfully during the holidays," said Shane Windmeyer, Executive Director of Campus Pride. "This year we hope to bring more visibility to LGBTQ youth and expand our base of supporters to more allies."
Campus Pride is the leading national educational organization for LGBTQ and ally college students and campus groups building future leaders and safer, more LGBTQ-friendly colleges and universities. The organization provides resources and services to thousands of college students and nearly 1400 campuses annually.