Nov 18 2013 in Campus Pride, Community Organizing, Lambda 10 Project, News & Updates, Shane L. Windmeyer by Rebby Kern
Registration is now open for OUT & GREEK LGBT and Ally Conference 2014. Attendees will gain tools to create safer environments within Greek life systems and more inclusive fraternities and sororities.
Lesbian, gay and bisexual and transgender (LGBT) fraternities & sororities are on the rise. Now, more than ever, Greek life chapters are adopting inclusive policies to create safer spaces for LGBT brothers and sisters. The Campus Pride OUT & Greek National Leadership Conference assists in developing leaders to more effectively create safe spaces within Greek life.
Greek systems are becoming aware of the 'macho' and hyper feminine stereotypes of Greek life. Additionally, chapters have become more involved politically with LGBT issues. These inclusions are to provide members with access to Greek life without fear of homophobic behavior or attitudes by fellow members.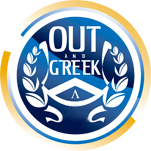 "Indeed, LGBT visibility is growing within all fraternal organizations at colleges and universities.  Since 1995, our organization has provided critical resources for Greek leaders to implement LGBTQ inclusion among chapters, including our annual OUT & Greek National Leadership Conference," said Shane Windmeyer, Executive Director of Campus Pride. "OUT & Greek allows all types of fraternal organizations a place to come and ensure Greek life is welcoming to all students regardless of their LGBT identity."
Here is a list of some sororities and fraternities that cater to the LGBT community:
Sororities
Alpha Lambda Zeta – fraternity for women who identify as aggressive lesbians
Gamma Rho Lambda — sorority for women of any race or sexual orientation
Kappa Alpha Lambda – sorority for feminine lesbian women
Omicron Epsilon Pi — sorority for lesbians, particularly of color
Fraternities
Delta Lambda Phi – fraternity for gay, bisexual, transgender and progressive men
Sigma Phi Beta – fraternity for gay, straight, bisexual and transgender men which split off from Alpha Lambda Tau (now defunct) in 2003
Sigma Epsilon Omega – fraternity for gay, bisexual and transgender men; open to all regardless of identity, UC Berkley
Gender Neutral
Delta Lambda Psi – queer gender-neutral fraternity/sorority at the University of California, Santa Cruz
LGBT-Inclusive
Pi Kappa Phi
Sigma Phi Epsilon
Delta Upsilon
Theta Delta Chi
Lambda Chi Alpha
Beta Theta Pi
Campus Pride is hosting the OUT & Greek LGBT & Ally Conference  in partnership with the Association of Fraternal Leadership and Values (AFLV).
The OUT & Greek LGBT & Ally Conference is the only conference of its kind for LGBT and ally fraternity and sorority leaders to share, network and learn strategies to create safer, more LGBT-inclusive fraternity and sorority communities.
Registration for the Campus Pride Out & Greek LGBT & Ally Conference 2014 is now open.
The outcomes for Out & Greek conference attendees include:
Learn how to become an effective straight ally
Share stories of coming out and being Greek
Network with other LGBT and ally fraternity and sorority leaders
Learn strategies for your organization and community to be safer and more LGBT-friendly
Read more about the keynote presenters and workshops available at the OUT & Greek LGBT & Ally Conference.
Campus Pride is the leading national educational organization for LGBTQ and ally college students and campus groups building future leaders and safer, more LGBTQ-friendly colleges and universities. The organization provides resources and services to thousands of college students and nearly 1400 campuses annually. Learn more online at www.campuspride.org.