Oct 2 2013 in Campus Pride, Campus Pride Webinar Series, Health and Wellness, Leadership, News & Updates, Shane L. Windmeyer, Shane Windmeyer by CampusPride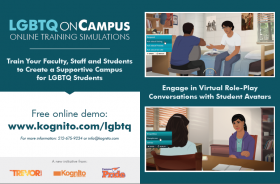 Please join Campus Pride for a series of special webinars to learn about three online training simulations to support lesbian, gay, transgender and questioning (LGBTQ) youth who may be struggling due to bullying, harassment, isolation or abuse.
The Trevor Project and Campus Pride have collaborated with Kognito Interactive to create and distribute three online, interactive training simulations designed for use by secondary school personnel and higher education faculty, staff and students. These simulations provide learners with a chance to engage in practice classroom interactions and conversations with virtual students and reach out to struggling students one-on-one.
The webinars will address the need for these programs and provide a live demonstration of these online tools.
There are no charges to participate in the webinars. Please click on a date below to register:

Mental Health and Suicide Prevention Community
One session only


Higher Education

2 Options


K-12 Education

2 Options


 
Presenters will include representatives from The Trevor Project, Campus Pride and other special guests. Kognito Interactive will provide a live demo of the training simulations.