Oct 3 2013 in Campus Pride, News & Updates by Rebby Kern
Campus Pride congratulates Fayetteville State University for opening LGBT Safezone Office; becoming the third HBCU in the country to have dedicated LGBT support services.
This week the Division of Student Affairs announced the launch of Fayetteville State University's first-ever Safezone Office, a resource and ally office for the LGBT community. A part of the Division's diversity initiatives, the Safezone Office will serve the entire FSU community as a resource for LGBT awareness and education as well as provide an affirming and supportive office environment for LGBT students and their allies. The Safezone office is located in Hood Hall, Office 34 for the 2013-14 school year.
"FSU is now the third Historically Black College and University (HBCU) in the nation to have a LGBT dedicated office to serve as an ongoing resource and provide an institutional commitment for LGBT students," said Shane Windmeyer, Executive Director of Campus Pride. "The significance of this cannot be underestimated and Campus Pride praises FSU and will continue to provide the support necessary to build momentum for other HBCUs to do the same."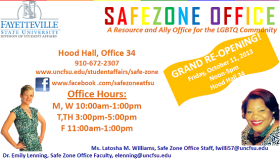 The Safezone office will host a Grand Re-opening and Open House for its official grand opening on Friday, October 11, 2013 from 12:00pm until 5:00pm. The October 11the grand re-opening date has larger significance as the commemorative National Coming Out Day for LGBT identified persons across America.
The Safezone Office program outcomes include:
• Raising the cultural competence of Faculty/Staff to include more knowledge of the LGBTQ population
• Providing assistance to an often marginalized student group through visible, structured office support
• Educating the student population on the issues and concerns facing the LGBT community
• Referring students to appropriate campus and non-campus resources for issues and concerns
• Retaining LGBT students at the University through assistance and visible support
The Fayetteville Observer recently published an article about Fayetteville State University's Safezone program. The article featured commentary from FSU Vice Chancellor of Student Affairs, Dr. Janice Haynie, Student Affairs Safezone Consultant & Associate Professor of Criminal Justice, Dr. Emily Lenning, and Safezone Staff & Career Counselor, Ms. Latosha M. Williams.
Campus Pride is the leading national educational organization for LGBTQ and ally college students and
campus groups building future leaders and safer, more LGBTQ-friendly colleges and universities. The
organization provides resources and services to thousands of college students and nearly 1400
campuses annually. Learn more at CampusPride.org.