Mar 25 2014 in Campus Pride, Campus Pride Index, Campus Pride Summer Leadership Camp 2014, Hate Crimes Prevention, News & Updates, Press Releases, Stop the Hate by Rebby Kern
"Homo Sex is a Sin…" among anti-LGBT religion-based bigotry found written on campus sidewalk after kickoff event to Spelman College and Morehouse College's joint Pride Week activities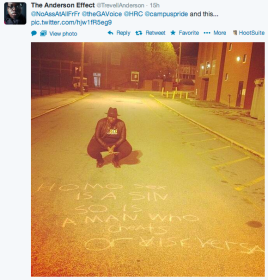 This week Spelman College and Morehouse College students teamed up for Pride Week 2014. This week brings activities, events and programs to bring awareness to the LGBT community on campus. The theme this year is "We Are Coming Home: Claiming space, Redfining it, and Celebrating Wholeness."
Following the SpelHouse Pride Week kick off event on Monday night, Spelman College and Morehouse College students reached out to Campus Pride via Twitter and with emails after they discovered sidewalk chalking expressing religion-based bigotry on campus.  The side-walk chalking read: "Homo Sex is a Sin…" and "He loves YOU! He Hates Sin. Jesus Saves."
"Religion-based bigotry of this kind is a harsh reminder of the hard work still to do on college campuses, especially at HBCUs," said Shane Windmeyer, Executive Director of Campus Pride. "Campus Pride stands with the students at Spelman College and Morehouse College in working to change the campus climate — but, let's be clear, it is not the responsibility of the students to accommodate their own inclusion and safety.  It is the job of the President and administrators to ensure a safe, welcoming learning environment for all its students.  Now is the time during SpelHouse Pride Week to step up."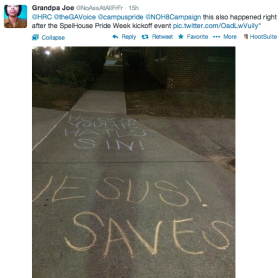 Windmeyer continued by commending all those involved with Pride Week and acknowledging how Campus Pride can continue offering support to both campuses.  Spelman College has been working with Campus Pride to become listed on the index the last two years and to find ways to improve LGBT policies, programs and practices. Currently, there are only seven HBCU's out of the 400 colleges and universities on the Campus Pride Index.   Morehouse College is currently not participating.
This Summer LGBT youth leaders at HBCUs are also encouraged to attend the annual Camp Pride Summer Leadership Academy.  In its eighth year, the Camp Pride is the premier training ground for LGBT young adults to learn social justice and leadership skills to create necessary change on their campus and local communities. There are also scholarships for administrators and professional staff to attend the Campus Pride LGBT Professional Academy for Advisors which helps better equip campuses for supporting LGBT students.  First priority consideration for scholarships is April 18, 2014 and rolling thereafter.
Campus Pride also provides online resources and tools including the Stop The Hate Train the Trainer,  Bias and Hate Crime Prevention strategies and LGBT-inclusive resources for HBCUs.
"The smart thing to do would be for the President to get ahead of the ball here when it comes to LGBT inclusion and safety," said Windmeyer. "Sidewalk chalking like this should not be ignored or downplayed… it is a very real indicator of the challenges to campus climate and can quickly escalate."
Campus Pride is the leading national educational organization for LGBTQ and ally college students and campus groups building future leaders and safer, more LGBTQ-friendly colleges and universities. The organization provides resources and services to thousands of college students and nearly 1400 campuses annually. Learn more online at CampusPride.org.