May 8 2014 in Campus Pride, Campus Pride Index, News & Updates, Press Releases, Shane Windmeyer, Student Leader Network by CampusPride
Celebrate "educate2impact day" on May 21 with special Twitter town hall featuring MSNBC host Thomas Roberts and special guests including Campus Pride Executive Director Shane Windmeyer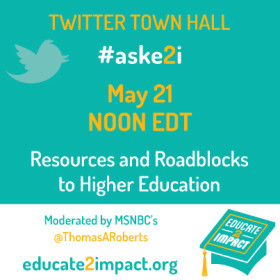 Campus Pride partners with Point Foundation on inaugural educate2impact day on May 21, 2014.  The event launched the website www.educate2impact.org. Everyone deserves equal access to education and educate2impact day will bring attention to the importance of lesbian, gay, bisexual, transgender and queer (LGBTQ) students attending and graduating from high school and college.
"Every student has the right to a safe learning environment and to accessible, quality education.  Since 2001 Campus Pride has continually supported LGBTQ youth in the transition from high school to college and then providing leadership tools to prepare them for academic success," said Shane Windmeyer, Executive Director of Campus Pride. "We are proud to be part of this inaugural 'educate2impact' day."
Thomas Roberts, host of MSNBC's "Way Too Early" and contributor to "Morning Joe," will moderate an educate2impact day Twitter town hall on May 21, from 12 p.m. to 1 p.m. EDT. By using the Twitter hashtag #aske2i, social media users can join the online discussion about financial assistance for college and the particular challenges many LGBTQ students face. Panelists for the Twitter town hall are Rohit Chopra, assistant director & student loan ombudsman, Consumer Financial Protection Bureau; Shane Windmeyer, executive director, Campus Pride; Michelle Marzulo, Ph.D., Point Foundation alumna; and Jorge Valencia, executive director & CEO, Point Foundation.
"Education helps empower the LGBTQ community and reduces the social stigma and prejudice that LGBTQ individuals often experience," said Valencia. "It's crucial that we use opportunities such as educate2impact day to support the efforts and aspirations of LGBTQ students, many who have experienced bullying and bias in high school and college that can cause them to drop out of school."
In support of educate2impact day on May 21, Point Foundation and Campus Pride along with other partners are encouraging people to update their social media profile photos via the easy-to-use tools found on the Get Involved page of the educate2impact.org website. "Selfie Diplomas" – printable templates used for the sharing of encouraging statements across social media platforms – as well as graphics and inspirational quotes are also available on the Get Involved page. Use #educate2impact for social media posts.
Other inaugural partners for educate2impact day include Bisexual Resource Center, GLSEN, It Gets Better Project, PFLAG, The Trevor Project and True Colors Fund.
Campus Pride is the leading national educational organization for LGBTQ and ally college students and campus groups building future leaders and safer, more LGBTQ-friendly colleges and universities. The organization provides resources and services to thousands of college students and nearly 1400 campuses annually. Learn more online at CampusPride.org