Jan 8 2014 in Fundraising by CampusPride
Campus Pride among the inaugural group of LGBT nonprofit affiliates set to receive donations from the EqualityCard™ platform starting in February; Campus Pride Executive Director Shane Windmeyer also appointed to Advisory Board of new fundraising initiative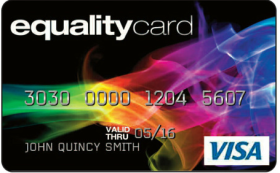 Charlotte, NC - Philanthropy Ventures LLC, today announced plans for a February launch of EqualityCard™. Campus Pride is among the first nonprofit affiliates to participate in the new credit card initiative.
The EqualityCard™ Visa represents a bold new giving tool to raise vital funds for lesbian, gay, bisexual and transgender (LGBT) non-profits across the nation. The model will allow EqualityCard™ business and consumer cardholders to generate tax-deductible donations equal to 1 percent of their purchases for the LGBT charities of their choice, with no out of pocket expense.
"Campus Pride is proud to be among the first affiliates and to use this new fundraising tool," said Shane Windmeyer, Executive Director of Campus Pride. "I am also personally pleased to be on the advisory board to help grow the EqualityCard™ and support involvement with a diverse array of partners."
Campus Pride is one of nine LGBT non-profit organizations who have already agreed to become EqualityCard™ Non-Profit Affiliates, which will allow them to add their organization's profile to the EqualityCard™ donation portal.  This non-public site is where new cardholders are directed to help them decide which organizations to designate as their beneficiaries of 1 percent of their purchases. Cardholders will be able to choose up to three charities to receive the funds.
"Supporting LGBT youth and safe spaces is what Campus Pride does," said Windmeyer. "Programming like our Camp Pride Summer Academy educate on a deep level, changing the lives of young adults — instilling life-long leadership skills and social justice values. The EqualityCard™ will enables Campus Pride to reach more donors, telling our story of what we do and in return these donors have a way to continually give back to LGBT youth and safe spaces."
Other LGBT organizations to become EqualityCard™ Affiliates include Athlete Ally, The New York City Anti-Violence Project, Circle of Voices, Impact Leadership 21, The National Center for Transgender Equality, SunServe in South Florida, The Transgender Law Center, and the Hetrick-Martin Institute.
EqualityCard™ will build on the momentum of Philanthropy Ventures' flagship brand, HaloCard® which launched last year in support of a host of other non-profits that are largely outside the LGBT giving space. Forbes highlighted the new venture last spring in a feature story titled "A Startup Aims to Disrupt The Charity– And The Credit Card– Business". EqualityCard™ will raise funds using the exact same model as HaloCard®.
"We're thrilled to be on the verge of launching EqualityCard™, a dynamic new way to increase giving in the LGBT non-profit arena." said Nick Lepetsos, Philanthropy Ventures LLC, Founder/CEO and EqualityCard™ creator. "Our Board of Advisors, including Campus Pride's Shane Windmeyer, represent a wide cross-section of the LGBT movement, who are working closely with us to ensure that this card represents LGBT people and causes in the most positive, inclusive, and meaningful way."
EqualityCard™ will officially launch on February 24, 2014. Over the next month the the LGBT community can meet EqualityCard™ representatives and learn more about the enterprise at Aspen Gay Ski Week (January 12 – 19) and the National Gay and Lesbian Task Force's Creating Change conference in Houston, Texas (January 29 – February 2).
To learn more or to view the EqualityCard™ Board of Advisor's page, visit: http://www.equalitycardproject.com