Mar 10 2014 in Camp Pride, Campus Pride, Campus Pride Summer Leadership Camp 2014, News & Updates, Press Releases, Shane Windmeyer by Rebby Kern
Over $12,000 in scholarship assistance funding available to attend Camp Pride Summer Leadership Academy for LGBTQ youth leaders at HBCUs; Apply online now at CampusPride.org/CampPride
(Charlotte, NC) – Campus Pride launches outreach effort to fund LGBTQ youth leaders from Historically Black Colleges & Universities (HBCUs) to attend Camp Pride Summer Leadership Academy this July 15-20, 2014 in Nashville, Tennessee. The organization has partnered with the National Black Justice Coalition (NBJC) to select a cohort of HBCU youth to receive over $12,000 in scholarship assistance. Apply online now at CampusPride.org/CampPride.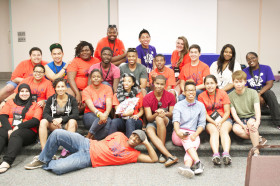 "Building LGBTQ leadership capacity for youth of color, especially at HBCUs, is tantamount to the future. We must deepen our commitment to HBCUs to transform campus culture and institutional support for LGBTQ youth of color issues," said Shane Windmeyer, Executive Director of Campus Pride. "We are excited to partner with NBJC to identify these LGBTQ youth leaders at HBCUs and plan to increase funding in the future."
Campus Pride partnered with NBJC this year to increase involvement of students of color at Camp Pride and to build leadership opportunities for HBCU youth leaders. The partnership is an extension of working for the past two years together with Campus Pride's Stop The Hate training. Over $12,000 in funding has been given to Campus Pride through the David Bohnett Foundation and individual donors for increasing involvement by youth of color, specifically HBCU leaders. Based on Campus Pride's 2010 national college climate study, LGBTQ students of color, especially trans youth of color, are more likely to consider leaving their campus as a result of harassment and negative climate issues.
"Helping Black LGBT Emerging Leaders own their power is integral to the work that we do here at NBJC," says Sharon J. Lettman-Hicks, Executive Director and CEO of the National Black Justice Coalition. "HBCUs are often unprepared and under-resourced to deal with the issue of cultivating a safe and affirming climate for the LGBT community. As a result, the onus has been on our youth to demonstrate the need and to cultivate the institutional change on campus. We are happy to partner with Campus Pride and the Camp Pride Academy as we work together to make this phenomenal leadership development and networking opportunity available to the future leaders of our movement."
In its eighth year, the Camp Pride Summer Leadership Academy is the premier college student leadership training. NBJC staff will be featured guest workshop presenters and deliver a keynote again this year at Camp Pride. The camp advocates for LGBT equality within an intersectional social justice framework. Youth leaders who attend camp implement action plans to improve safety and inclusion on campus and in local communities the subsequent year.
Scholarships help students every year who may not have the institutional support or resources to attend Camp Pride otherwise. HBCU youth can apply now online at CampusPride.org/CampPride or contact Campus Pride for more information by phone at 704-277-6710 or email info@campuspride.org. Donations for scholarships can also be made online at CampusPride.org/Donate.
Campus Pride is the leading national educational organization for LGBTQ and ally college students and campus groups building future leaders and safer, more LGBTQ-friendly colleges and universities. The organization provides resources and services to thousands of college students and nearly 1400 campuses annually. Learn more online at www.CampusPride.org.
National Black Justice Coalition (NBJC) is a civil rights organization dedicated to empowering Black lesbian, gay, bisexual and transgender (LGBT) people. NBJC's mission is to end racism and homophobia, and envisions a world where all people are fully-empowered to participate safely, openly and honestly in family, faith and community, regardless of race, class, gender identity or sexual orientation. Learn more online at www.NBJC.org