Feb 24 2014 in 2010 State of Higher Education for LGBT People, Campus Pride, Campus Pride College Fair, Campus Pride Index, News & Updates, Press Releases, Q Research Institute for Higher Education, Shane L. Windmeyer, Shane Windmeyer, Student Leader Network by CampusPride
Free dynamic online database lists thousands of LGBT scholarships for youth providing greater access and resources to higher education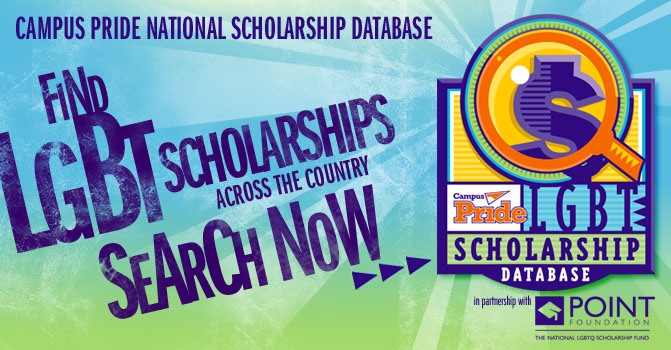 (Charlotte, NC) – Campus Pride announced today the launch of the National LGBT Scholarship Database in partnership with Point Foundation.  The new online dynamic database is free and provides LGBT and ally students with the largest, most comprehensive source of LGBT scholarship and funding resources in the nation.  Search online and learn more: CampusPride.org/Scholarship 

The problem of academically well-qualified students not applying to colleges because they think they cannot afford tuition and related costs, is one the U.S. Department of Education has recently called "…a tragic loss of academic opportunity and human potential."  Similarly, many students are also unaware of the various forms of financial aid – including scholarships – available to them.
"Everyone has a fundamental right to education.    For our LGBT youth, especially those who are first generation college students and those from low to middle income backgrounds, the dream of going to college is still a dream," said Shane Windmeyer, Executive Director of Campus Pride. "This national database is another step toward creating greater accessibility to higher education for LGBT youth.  There is much more work to be done."
According to Campus Pride, the national database is constantly growing with currently over a thousand scholarship opportunities for undergraduate and graduate level study. Individuals can find how to apply and search scholarships available at certain campuses, state by state, regionally or nationally. New scholarships may be listed by a campus or any funding organization by simply logging into the database. There are no charges to view scholarships or to list scholarships. Campus Pride will review and edit scholarship data on an ongoing basis.
Campus Pride's partner Point Foundation is the nation's largest scholarship-granting organization for lesbian, gay, bisexual, transgender and queer (LGBTQ) students of merit. Both organizations plan to improve the site and continue building it to be the nation's premier source for information on LGBT scholarships.
"Every year we receive thousands of applications for our Point Foundation scholarships. These are young people hungry to invest in their future and help society by getting a college degree, but are in great need of financial assistance" said Jorge Valencia, Executive Director and Chief Executive Officer of Point Foundation. "While Point is able to help some individuals, we are eager to raise awareness of other diverse higher education scholarships.  It is our hope that through discovering opportunities in the National LGBT Scholarship Database, students will realize their dreams of getting a higher education degree."
Point Foundation has been an inaugural partner with Campus Pride's LGBT-friendly National College Fair program since 2007. Campus Pride annually hosts LGBT-friendly college fairs in six different cities including Atlanta, GA; Charlotte, NC; Los Angeles, CA; New York, NY; Boston, MA and Chicago, IL. Campus Pride also provides the Campus Pride Index (CampusPrideIndex.org), the only national online search tool for LGBT-friendly colleges. This scholarship database is a result of a growing collaboration between the organizations and the demand for more resources for LGBT youth in college readiness and preparation.
"It gets better when we provide opportunities to our LGBT youth for success beyond high school.  Money to go to college is a starting point," Windmeyer said.
For any questions or more information about Campus Pride and our programs and services, please contact info@campuspride.org or call 704-277-6710. For general information for Point Foundation, contact info@pointfoundation.org or call 866-33-POINT.
 ________________________________
Campus Pride is the leading national educational organization for LGBT and ally college students and campus groups building future leaders and safer, more LGBT-friendly colleges and universities. The organization provides resources and services to thousands of college students and nearly 1400 campuses annually. Learn more online at CampusPride.org.
Point Foundation empowers promising LGBTQ students to achieve their full academic and leadership potential – despite the obstacles often put before them – to make a significant impact on society.  Point promotes change through scholarship funding, mentorship, leadership development and community service training.  www.pointfoundation.org.