Oct 2 2013 in Campus Pride, Health and Wellness, Leadership, News & Updates, Press Releases, Q Research Institute for Higher Education, Transgender by CampusPride
LGBTQ youth champions The Trevor Project and Campus Pride partner with award-winning developer of online training simulations, Kognito Interactive, to create a trio of online safety net programs to support pre-teens through college age youth.
As schools focus on bullying prevention in October, The Trevor Project, Campus Pride and Kognito Interactive today launch three new online training simulations for secondary school personnel and higher education staff and students. The trainings build skills to support lesbian, gay, bisexual, transgender and questioning (LGBTQ) youth in the years when peer pressure, harassment and bullying can have the most devastating results. To view live demos of these trainings go to: www.kognito.com/lgbtq
"These trainings – Step in, Speak Up, and the LGBTQ on Campus – allow The Trevor Project to expand our reach exponentially, helping more people build the skills they need to create safe schools," said Abbe Land, Executive Director and CEO of The Trevor Project. "By making schools and campuses safer for lesbian, gay, bisexual, transgender and questioning students, we can help improve safety for all students."
Studies show a student's environment and sense of safety at school and on campus impact academics, absenteeism and psychological well-being. Strikingly, 63.5% of LGBTQ youth in middle school and high school have felt unsafe because of their sexual orientation, and 43.9% because of their gender expression[i]. College students and faculty who identify as LGBTQ not only express significantly higher rates of harassment than their straight peers but were also more likely to fear for their physical safety based on their sexual orientation or gender identity[ii].
"With more attention focused on student safety and mental health support, programs like these training simulations can help improve school and campus climate, reducing risk and improving outcomes for LGBTQ students and staff," Land added .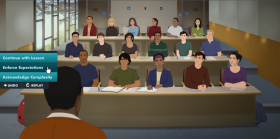 "College campuses must address LGBTQ concerns in a pro-active manner, exercising responsibility for academic success of at-risk populations like LGBTQ youth," said Shane Windmeyer, Executive Director of Campus Pride. "The new LGBTQ on Campus programs are dynamic tools that make it easy for colleges and universities to educate their students, faculty and staff in an accessible, effective and comprehensive manner. They will support the work that Campus Pride does every day to provide resources to improve campus climate and safety."
The online simulations are built using Kognito Interactive's proprietary "Human Interaction Game Engine™" which is based on research in neuroscience, virtual humans, social cognition, and adult learning theory. The simulations are available 24/7 online. They can be purchased for individual use at www.kognito.com/store, or they can be purchased by institutional buyers, such as colleges and universities, state agencies, schools and school districts.
"By providing users with practice speaking with virtual students, Step In, Speak Up! and the LGBTQ on Campus trainings build the skills and confidence individuals need to engage in similar conversations in real life," said Kognito's Co-Founder and CEO Ron Goldman. "Engaging in these very challenging conversations is at the core of truly overcoming stigma and supporting LGBTQ youth."
---
[i] Kosciw, J. G., Greytak, E. A., Bartkiewicz, M. J., Boesen, M. J., & Palmer, N. A. (2012). The 2011 National School Climate Survey: The experiences of lesbian, gay, bisexual and transgender youth in our nation's schools. New York: GLSEN.
[ii] Rankin, S., Weber, G., Blumenfield, W., Frazer, S. (2010). 2010 State of Higher Education for Lesbian, Gay, Bisexual & Transgender People. North Carolina: Campus Pride.