Apr 17 2014 in Community Organizing, Leadership, News & Updates, Press Releases, Religion, Shane L. Windmeyer by Rebby Kern
Campus Pride joins a global effort to ask Pope Francis to stand against and end religiously-driven remarks made against LGBT youth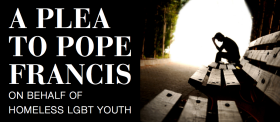 On Palm Sunday, April 13, 2014, a letter was published addressed to Pope Francis calling on the Church's current harmful attitudes and labeling of LGBT youth. Together, Faith in America, an organization educating on the negative effects from religiously driven stigmas, and Carl Siciliano Executive Director of the Ali Forney Center, assisting homeless LGBT youth in New York City, delivered and published the letter to Pope Francis. This letter includes concern regarding the direct results on LGBT youth facing rejection from the Church based on negative teachings on homosexuality.
The content of the letter asks Pope Francis to stop the church's current characterizations of LGBT youth as "intrinsically disordered" and their acts of "homosexual conduct" as a sin.  These constant negative views have affected LGBT youth directly and have shown to attribute to homelessness, disownment from family and violence of these youths.
"Every person, especially youth, deserves to feel loved and included," said Shane Windmeyer, Executive Director of Campus Pride. "The language we use about LGBT youth should be inclusive and nurturing. No young person should grow up afraid – or segregated from their faith because of who they are. We urge Pope Francis to act accordingly and make an institutional commitment to recognize and value the lives of LGBT youth."
In the letter, published in a full page ad in the New York Times, Siciliano writes:
I write to you on behalf of the homeless LGBT youths I serve. I ask you to take urgent action to protect them from the devastating consequences of religious rejection, which is the most common reason LGBT youths are driven from their homes. At the heart of the problem is that the church still teaches that homosexuality is a sin. My hope is that if you come to understand how this teaching tears families apart and causes the suffering of innocent youths, you will end this cruel teaching and prevent your bishops from fighting against the acceptance of LGBT people as equal members of society. 
I hope that you will open your eyes and heart to the suffering of our youths. As LGBT youths are finding the courage to speak the truths of their hearts at younger ages, epidemic numbers are being rejected by their families, and driven to homelessness. The number of youths enduring this cruel fate is staggering; last year at least 200,000 LGBT youths experienced homelessness in the United States. LGBT youths make up 40% of the homeless youth population in this country, despite comprising only about 5% of the overall youth population.
You can read the full letter here.
To take action, please sign the Change.org petition calling on Pope Francis to shift the Church's influence. Add your name to the petition here.
In October 2014 a global meeting of Church officials will take place addressing "Pastoral challenges to the family in the context of evangelization." This letter acts as an important ask for an agenda item in this meeting.
Additionally, a meeting has been called by Carl Siciliano for Pope Francis to visit the Ali Forney Center and meet LGBT youth who will share their personal stories of ostracization from their families based the the religious beliefs from the Church.
A 2010 study by Dr. Caitlin Ryan of the Family Acceptance Project shows the LGBT youth who reported low family acceptance were more than three times more likely to have suicidal thoughts and attempts than those youth with high levels of family acceptance. If the Pope chooses to, there can be a shift in Church influence in order to provide stronger acceptance of youth and providing them a higher sense of self-esteem and value.
Campus Pride is the leading national educational organization for LGBTQ and ally college students and campus groups building future leaders and safer, more LGBTQ-friendly colleges and universities. The organization provides resources and services to thousands of college students and nearly 1400 campuses annually. Learn more online at CampusPride.org.