Mar 17 2014 in Campus Pride, Community Organizing, Leadership, News & Updates by Rebby Kern
Central Michigan University students join Campus Pride to volunteer and learn more about social issues and activism around the LGBTQ community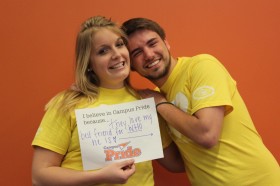 Campus Pride hosted eleven students from Central Michigan University from March 10-14 to be educated and volunteer with LGBTQ topics. The students came as part of the Alternative Breaks program, which is under the umbrella of the organization, Break Away. Alternative Breaks is a program where students go on trips across the country to participate in direct service with various social issues.
"The Alternative Breaks program gives students a chance to start the process of active citizenship.  It encourages them during a week-long service trip then to take what they learned and make a difference locally," said Kirsten Hissong who is studying Psychology at Central Michigan and is one of the two student site leaders for the trip.
This is the first time the Alternative Breaks program has performed service with Campus Pride. Scott Stewart, who is a junior studying Public Relations at Central Michigan and is one of the two student site leaders for the trip, said that working with Campus Pride has been a great experience.
"Working with a new community partner is always a bit nerve-racking because you never know what to expect, but Campus Pride could not have provided better service," Stewart said. "It was so easy to relate the service we have done back to our community since it deals directly with college populations."
The students work on various projects throughout the week. The volunteers during the week participated in updating the Campus Pride Map, a resource that help viewers can see the student  organizations, support services and campus resources for the LGBTQ students on college campuses.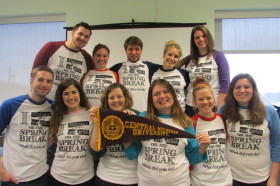 Natalie Schaefer, who is a sophomore studying Printmaking and Photography at Central Michigan, said that the working on the Campus Map Pride was an eye-opening experience, and she feels that it made a difference.
"A particular thing that comes to mind is that prior to this week, the state of Alabama had zero schools listed on the map. It now will have at least five thanks to my research," Schaefer said.
In addition to doing research for the Campus Pride Map, the students were able to work on projects based on their individual talents and skills such as taking photos, writing blogs and working with excel sheets.
Senior Emily Huckabone, who is studying Marketing at Central Michigan, did a project where she transferred Campus Pride Index from a word document to an excel sheet. She said that she learned more working with Campus Pride than she ever expected.
"Everything about the LGBTQ community was put into so many different, great perspectives on this break," Huckabone said.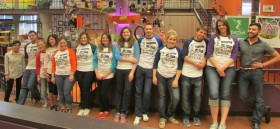 The students also learned and practiced proper social media techniques to help promote Campus Pride. The volunteers tweeted at well-known celebrities who are LGBTQ or an ally. The students also wrote tweets for the different Campus Pride resources such as college fairs, internships, fellowship and the speakers bureau.
"The Twitter activities were fun because I got to try using my creativity to make tweets that celebrities would notice, all the while supporting Campus Pride," said Maribeth Poindexter, who is a graduate student at Central Michigan receiving her Masters in Business Administration. "I got retweeted by Cecily Strong from SNL and Lance Bass, which was awesome."
Also, speakers came throughout the week to discuss different topics that affect the LGBTQ community.
"The speakers that we have had during the week have brought in an amazing perspective and educational aspect that I've never seen before," Stewart said. "There is nothing more valuable than gaining insight into the way that others think and view the same situation, and the speakers during this week have challenged the way that I think."
Josh Burford, who is an activist, historian and teaches Queer history at the University of North Carolina-Charlotte came to speak to the students. During his talk, he stressed the importance of knowing the history of the LGBTQ community and discussed his perspective on issues facing the community.
"I enjoyed hearing his point of view because I learned a different point of view," said Sarah Stack, who is a senior studying Early Childhood Development at Central Michigan. "Even though it didn't change my opinion on my views, I feel that I have a broader perspective."
Rebecca Taylor, who is the assistant dean at Davidson College, discussed creating resources for LGBTQ students, and gave advice to the participants who wanted to expand services at Central Michigan University.
"I felt that Rebecca had several good points, and it made me think about the inequality that truly is still here in our time," said Steven Taylor, who is a senior majoring in Family Studies.
Jennifer Conway, who is the Student Life Program Coordinator at the Central Piedmont Community College, spoke about Allyship and the importance of having empathy for the LGBTQ community. To highlight how difficult the coming out process can be, Conway did an activity where the participants tore up pieces of paper that represented facets of life that change for people when they come out.
"I found a lot of value in Jennifer's speech about allies," Poindexter said. "She brought up some great points that I hadn't thought of, and the activity we did in the end really put things into perspective and evoked some strong emotions."
Matt Comer is the editor of Q Notes talked about how the LGBTQ  community is represented in the media. The value of having a media outlet that caters to the LGBTQ community, and how the mainstream media could improve it's coverage.
"The speakers brought with them a versatility of knowledge and experiences that enhanced our awareness of the issue," said Laura Trombley, who is a senior studying Education at Central Michigan.  "Their willingness to be open and share their stories with our group helped strengthen our desire to be active in our own community and work for positive outreach and change."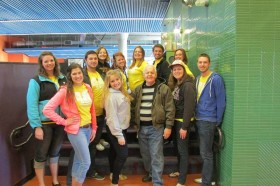 Brandy Alexander came to speak about her 50 years of experience in drag culture. She talked about some of the struggles she went through early in her drag career, and how the culture has changed throughout the years.
"Hearing her story and seeing the passion for drag and drag history in her eyes, was amazing, and so entertaining, " Schafer said.
The students also had the opportunity to experience a drag show while passing out information about the Miss Campus Pride event that will be hosted  on March 23 at the Scorpio Nightclub.
"Having gone to the drag show before, I thought this one was interesting because it was up close and personal," said Renee Renauer who is a sophomore majoring in Natural Resource Biology at Central Michigan University. "It was great to personally interact with the drag queens."
Hissong said that was fun and amazing experience being able to experience her first drag show with Campus Pride.
"It was a great chance to immerse ourselves into the community and the drag culture," Hissong said. "I am very grateful that Campus Pride arranged for us to attend."
Central Michigan senior Brandon Robinson, who is studying Psychology, said that working with Campus Pride for his spring break has been a great educational experience.
"My favorite part was meeting the wonderful staff members and seeing the awesome work they do for not only the community but across the country," Robinson said. "I learned so much and I'm very grateful for the opportunity to have worked together with them."
Trombley said she could not have predicted how much working with Campus Pride would change her life.
"Coming on this trip I knew I would be different when I got back, but I never realized the growth I experienced could be so transformational. I am eager to return to Michigan with pride in my identity and who I am, and the determination and empowerment to actively work towards social justice," Trombley said, "I came to North Carolina with 10 other CMU students, and I am leaving with a new family and calling to serve. I couldn't ask for anything more."
This blog was written by Arielle Hines, Central Michigan University.
Campus Pride is the leading national educational organization for LGBTQ and ally college students and campus groups building future leaders and safer, more LGBTQ-friendly colleges and universities. The organization provides resources and services to thousands of college students and nearly 1400 campuses annually. Learn more online at CampusPride.org.