Nov 25 2013 in Hate Crimes Prevention, News & Updates, Press Releases, Stop the Hate by CampusPride
In response to the San Jose State University hate crime charges filed and the university response, Campus Pride Executive Director Shane Windmeyer released this official statement today:
Campus Pride expresses extreme dismay and concern over the news reports and public accounts that four white students displayed Nazi flags and pictures of Adolph Hitler hanging within their campus residential suite while at same time tormenting an African-American roommate with racial slurs. Then in another instance reportedly holding down this same African-American student to place a chain and lock around his neck. The fact that this egregious behavior by the students in question went undetected over a period of two months is unimaginable and symptomatic of campus culture where racism can grow and that is unsafe for all students.
San Jose State University has a responsibility to provide a safe learning environment to all its students.  In order to learn and achieve academic success, a student must first feel safe on campus, especially in the residence halls.  Part of effective hate crime prevention is a strong response to hate crimes when one happens and the ongoing work the college does to respond to bias incidents.  San Jose State University has failed in this regard repeatedly and the tragic lack of response by campus administrators demonstrates a culture present that is indifferent to this kind of hate. The bystander behaviors by all those involved is another example of an unhealthy campus climate. 
Campus Pride calls on San Jose State University to take an active, aggressive stance against this hate crime and commit actions moving forward to sustain an ongoing strategy to transform its campus culture.    San Jose State University is just one example of the hate that is still alive on campuses across the country.   Every college has the responsibility to live up to its educational mission by providing a safer learning environment for all its students.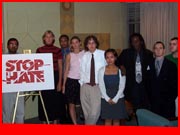 For the last 13 years, Campus Pride has trained over 2000 faculty, staff, students and administrators in bias and hate crime prevention with the national Stop the Hate Train the Trainer program. The 3 day premier training is in partnership with leading social justice organizations like the Southern Poverty Law Center, Anti-Defamation League, Wilbron Institute and the National Black Justice Coalition.  The 250 + page training curriculum is specifically geared toward colleges and universities around the country.  According to the F.B.I., colleges continue to be the third most common location where hate crimes take place.  The most effective way to prevent hate and bias incidents from happening on a campus is through education and awareness.  Learn more about Campus Pride's Stop The Hate training online at www.CampusPride.org/StoptheHate.
Campus Pride is the leading national educational organization for LGBTQ and ally college students and campus groups building future leaders and safer, more LGBTQ-friendly colleges and universities. The organization provides resources and services to thousands of college students and nearly 1400 campuses annually. The following are highlighted resources from CampusPride.org.