Apr 4 2014 in Campus Pride, News & Updates, Press Releases, Shane L. Windmeyer, Shane Windmeyer, Student Leader Network, Transgender by CampusPride
"CPCC needs to stop responding on Twitter and actually sit down with Andraya first thing on Monday.  The CPCC administration needs to come out in full support of Andraya and offer a personal apology for how the campus security treated her. Campus Pride is committed to continue work with Central Piedmont administration, faculty, staff and students in devising an action plan to address LGBT student concerns, particularly transgender student safety.  We can't wait any longer."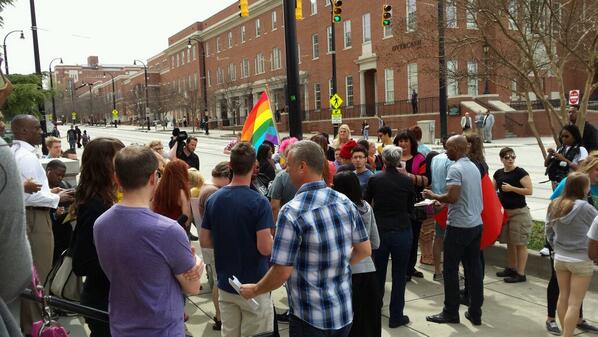 Charlotte, NC – This afternoon Central Piedmont Community College (CPCC) students held a protest and rally in support of transgender student Andraya Williams.  Signs and protest materials read "I stand with Andraya" and demanded CPCC take action for transgender inclusion and safety in policies and staff training.
On March 18,  Williams was approached by security officers who questioned her gender as she left an on campus restroom.  Williams has stated that the campus security detained her for no apparent reason and harassed her.  Even after she presented her ID, Williams was escorted off campus.
"In being discriminated against by the very people who are staffed for my safety, intimidated by own school staff, laughed at and bullied by my own school staff — these things are prime examples of why I still need a public apology and why we still need a policy change," Williams said today at the protest and rally.
"We are raised to believe that this is the land of the free and the home of the brave. Well, they got one thing right, for sure. This is the home of the brave," Williams added. "Minorities have bravely overcome many obstacles as a team. In order for us to grow and in order for this country to be what it claims to be, we have no choice but to stop bullying minorities. … Now it is our turn as the new minority being picked on to fight and win. We are discriminated against and segregated more often than not. I can't use my school's public restroom without being harassed and humiliated by ill-educated staff members. This to me is sad. I feel unequal, mistreated, inadequate, segregated and bullied."
Campus Pride is the leading national nonprofit organization for LGBT college students and campus groups and is based in Charlotte, NC.  The organization  has met with CPCC students in the past about ways to improve LGBT policies, programs and practices.  Less than two weeks prior to this specific incident, the Campus Pride Executive Director Shane Windmeyer was invited by CPCC faculty, staff and administrators to conduct a morning  in-service and professional development workshop on "The State of Higher Education for LGBT People."  According to Windmeyer, the two hour workshop was attended by nearly forty CPCC campus officials eager to learn more about implementing LGBT-inclusive policies, programs and practices.  Windmeyer discussed openly LGBT concerns for CPCC and its lack of LGBT-inclusive policy, specifically why there were not "family restrooms" built into all the new buildings.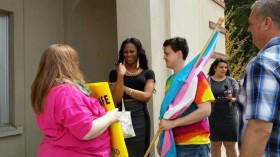 "Campus Pride has worked to support CPCC students over the years and I recently met with a few dozen faculty and staff. There are good people at CPCC who want to see positive change for the safety of LGBT students," said Windmeyer. "All students have the right to a safe learning environment including LGB and T students.   Now is the time to begin enacting transgender inclusive policies, programs and practices to ensure this does not happen again."
Campus Pride works annually with over 1400 campuses across the country.   Many of these campuses are taking steps to ensure LGBT-inclusion with training and development of policies.  Campus Pride has an online trans-inclusive checklist and a specific trans resource area to help campuses.  The organization also has a Trans Policy Clearinghouse and the only national benchmarking tool to enact LGBT-inclusive policies, programs and practices.  There are twenty-seven community colleges out of the 400+ colleges and universities on the Campus Pride Index.   CPCC is currently not listed.
"CPCC needs to stop responding on Twitter and actually sit down with Andraya first thing on Monday.  The CPCC administration needs to come out in full support of Andraya and offer a personal apology for how the campus security treated her."
Windmeyer continued, "Campus Pride is committed to continue work with Central Piedmont administration, faculty, staff and students in devising an action plan to address LGBT student concerns, particularly transgender student safety.  We can't wait any longer."
Campus Pride is the leading national educational organization for LGBTQ and ally college students and campus groups building future leaders and safer, more LGBTQ-friendly colleges and universities. The organization provides resources and services to thousands of college students and nearly 1400 campuses annually. Learn more online at CampusPride.org.