Jan 9 2014 in News & Updates, Press Releases, Student Leader Network, Transgender by CampusPride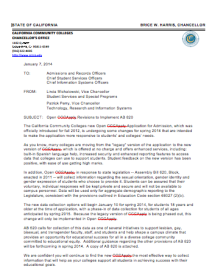 This Tuesday, January 7, the office of the Chancellor Brice W. Harris of the State of California, California Community Colleges, issued this letter to all  Admissions and Records Officers, Chief Student Services Officers and Chief Information Systems Officers about implementation and compliance with the California Assembly Resolution AB 620. The letter outlines the community college system-wide changes to the new Open CCCApply Application for Admission to be compliant with AB 620 which includes addition of optional identity questions related to sexual orientation and gender identity/expression.
Campus Pride applauds this letter from the California Community Colleges and the system-wide compliance with AB 620.  This move to include LGBT student data as an option will only support the safety and inclusion of LGBT youth as well as provide the necessary data around academic retention and success for this vulnerable population that has long been absent.
The full text is below:
The California Community Colleges new Open CCCApply Application for Admission, which was officially introduced for fall 2012, is undergoing some changes for spring 2014 that are intended to make the application more responsive to students' and colleges' needs.
As you know, many colleges are moving from the "legacy" version of the application to the new version of CCCApply, which is offered at no charge and offers enhanced services, including: built-in Spanish language help, increased security and enhanced reporting features to access data that colleges can use to support students. Student feedback on the new version has been positive, with ease of use getting high marks.
In addition, Open CCCApply, in response to state legislation — Assembly Bill 620, Block, enacted in 2011 — will collect information regarding the sexual orientation, gender identity and gender expression of students who choose to provide it. Students can be assured that their voluntary, individual responses will be kept private and secure and will not be available to campus personnel. Data will be used only for aggregate demographic reporting to the Legislature, consistent with the provisions outlined in Education Code section 66027 (2)(b). 
The new data collection options will begin January 10 for spring 2014, for students 18 years and older at the time of application, with a phase-in of data collection for students of all ages anticipated by spring 2015.  Because the legacy version of CCCApply is being phased out, this change will only be implemented in Open CCCApply.
AB 620 calls for collection of this data as one of several initiatives to support lesbian, gay, bisexual, and transgender faculty, staff, and students and help shape a campus climate that provides an opportunity for educational success for all in a diverse college community committed to educational equity.  Additional guidance regarding the other provisions of AB 620 will be forthcoming in spring 2014.  A copy of AB 620 is attached.
We are confident you will continue to find the new CCCApply the most effective way to collect information that will help as your colleges support all students in achieving success with their educational goals.