Jul 18 2014 in Advisor Bootcamp, Camp Pride, Campus Pride Summer Leadership Camp 2014, Community Organizing, Leadership, News & Updates by Rebby Kern
Camp Pride 2014 continued

on Thursday

 with programming centered around progress and change of the movement
Executive Director of the You Can Play Project and former NFL athlete Wade Davis gave an inspiring talk in the morning about language, identity, and power. Davis shared his own personal narrative and experiences with coming out as a gay athlete and learning how to empower himself and others, overcoming shame and leading with integrity.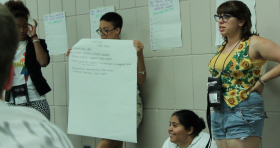 Faculty members Gavin and Mason led an exercise on Identity, Power, and Privilege, in which participants learned about how their own unconsidered privileges impacted their lives and their communities.
After lunch, Jake and Katie led the campers in an action planning session. The focus and intensity led to great progress and development, as the campers identified who could serve as potential allies or obstacles in implementing their plans upon their returns to campus.
There were two sessions of Breakout sessions, which included sessions about self-determining tools for HBCUs, a Bi 101 session, a poetry/spoken word workshop, an exploration of student rights at public universities, queering collegiate athletics, and a tour of the KC Potter center. Additionally, there was a Drag 101, some sessions on racial justice, as well as Greek life and others.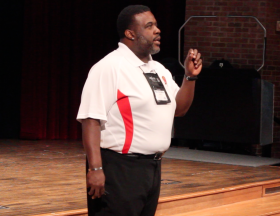 The Reverend Dr. Jamie Washington gave a very moving and practical speech on the importance of engaging resistance as a tool and source of power, rather than fighting against it or being combative toward it.
After dinner, Executive Director and CEO of NBJC Sharon Lettman-Hicks spoke about tools and strategies for HBCUs to become more LGBTQ-inclusive, as well as sharing about black community cultural realities,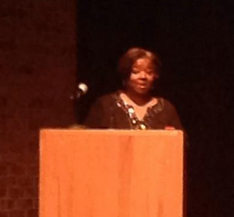 and tools for more authentic and effective solidarity and bridge-building by white LGBTQIA students to work in solidarity with QPOC toward racial justice.
After meeting in caucuses, nationally acclaimed singer-songwriter Randi Driscoll gave an incredible inspiring and life-changing concert which was sponsored by the Matthew Shepard Foundation.
Watch Randi Driscoll's video of 'Love is Love'

Written by Pride Leader 'Speegz'
Campus Pride is the leading national educational organization for LGBTQ and ally college students and campus groups building future leaders and safer, more LGBTQ-friendly colleges and universities. The organization provides resources and services to thousands of college students and nearly 1400 campuses annually. Learn more online at CampusPride.org.