Jul 19 2014 in Camp Pride, Campus Pride, Campus Pride Summer Leadership Camp 2014, Community Organizing, Leadership, News & Updates by Rebby Kern
Camp Pride 2014 continues on day five honing students' actions plans into final form, a special visit from Janet Mock and the Campus Pride Awards Reception and Graduation Ceremony 
Action plans are a great takeaway for the collegiate leaders at Camp Pride 2014. Often times students ask how they can achieve a specific goal, whether decided personally as a leader or a goal for an organization as a whole. The strategic approach of an Action Plan is centered around building human capital for the student leader and those around them. The plan is a comprehensive roadmap that Campus Pride equips Camp Pride leaders with the means to take step-by-step action to reach a determined team success. In the Action Plan session campers presented on their plans and were able to receive direct response and input from faculty and staff.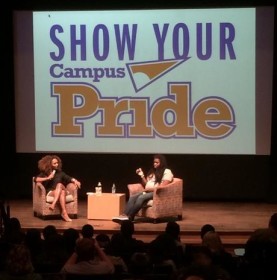 There can be great pressures for student leaders creating added stress and responsibility to carry the entire movement on their own shoulders. This demands knowledge of self-care to develop a greater sense of self-awareness in order to best support fellow peers. In 'How to Save Yourself and the World' Robyn and Grace focused on how to identify core leadership qualities, connect personal identities to community, develop positive leadership qualities through creative arts through the lens of self-care.
Focus on trans inclusion and awareness has been a hot topic for queer leaders and activists. Trailblazers have taken over media and have given a face and voice to trans identities. Janet Mock, New York Times Bestselling author of 'Redefining Realness' joined the Camp Pride family in a special stage interview. Mock took questions from Twitter and the audience with her Camp Pride host Keyonna Fowler from Trenton, North Carolina. "I knew that if I wanted anything I would have to get it myself," said Janet Mock. "The first step was being myself."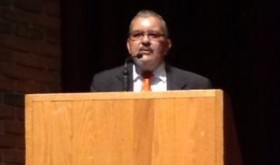 Over the 6 days that LGBTQIA and ally students develop greater leadership skills and identities they encounter great change. Camp Pride honors this triumph with an awards ceremony and graduation. "Go with the greatest imagination," said Diego Sanchez, Director of Policy at PFLAG, during his commencement speech. "Your job is to dream. I challenge you to be a graduate with a dream." Sanchez empowered students to claim this as their time. "What time is it?" he chanted. "My peoples' time!" responded the audience.
During the graduation ceremony Janet Mock was awarded with the 2014 Campus Pride Voice and Action Honorary Leadership Award for her dedication to increasing trans visibility and voices.
As Camp Pride 2014 begins to draw to an end students are empowered by the keynote speakers, educational blocks and most importantly, each other.
Campus Pride is the leading national educational organization for LGBTQ and ally college students and campus groups building future leaders and safer, more LGBTQ-friendly colleges and universities. The organization provides resources and services to thousands of college students and nearly 1400 campuses annually. Learn more online at CampusPride.org.