May 7 2013 in Advisor Bootcamp, Camp Pride, Campus Pride, News & Updates, Press Releases by CampusPride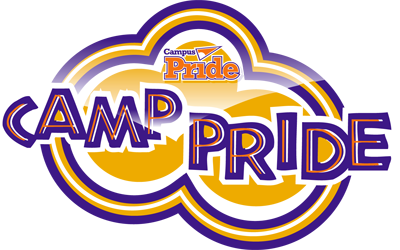 Planning for Camp Pride 2013 is well under way, and the week will include a host of exciting keynotes! National leaders and educators speaking at camp will include Mara Kiesling, Dr. Sue Rankin, James Clementi, Kye Allums, Robyn Ochs, Shane Windmeyer, and more. Several keynotes will be at camp throughout the week, while others will be presenting smaller workshops as well.
James Clementi is the older brother of Tyler Clementi, whose devastating suicide in 2010 brought national media attention to the bullying of LGBT teens nationwide. Since his brother's suicide, James has come out and now works with his parents to prevent anti-LGBT bullying and suicide through the Tyler Clementi Foundation.
Mara Kiesling is the Executive Director of the National Center for Transgender Equality and a long-time friend of Campus Pride. As one of the nation's leading voices for transgender equality, Mara has appeared on news outlets such as CNN and CSPAN, and is regularly quoted in the New York Times, the Washington Post and hundreds of other national and local print and electronic media.
Dr. Sue Rankin is a leader in the field of LGBT issues in higher education who has published and presented widely on the impact of sexism, racism and heterosexim in the academy and in intercollegiate athletics. Her work includes the Campus Pride 2010 State of Higher Education for LGBT People and the Campus Pride 2012 LGBTQ National College Athlete Report.
Kye Allums made history by becoming the first openly transgender college athlete in Division I sports. Since graduating, he has founded Project IMEnough to share his story and educate others as he travels to schools and organizations across the country, facing ignorance and bullying head on.
Robyn Ochs is an educator, speaker, award-winning activist, and editor of the 42-country anthology, Getting Bi: Voices of Bisexuals Around the World and the Bi Women newsletter. Her writings have been published in numerous bi, women's studies, multicultural, and LGBT anthologies. She will be both a faculty member and a keynote at camp!
Shane Windmeyer is a leading author on gay campus issues, a national leader in gay and lesbian civil rights and a champion for LGBT issues on college campuses. He is Co-Founder and Executive Director of Campus Pride, the leading educational organization for student leaders and campus organizations working to create a safer college environment for LGBT students.
Camp Pride, Campus Pride's Summer Leadership Program, is a one-of-kind leadership experience that brings together over 70 LGBT and allied young people from across the country for five days of student leadership development, campus organizing techniques, social justice advocacy, diversity education and more. The summer leadership program was featured in the documentary "Legalize Gay: The Civil Rights Movement of a Generation" on the national TV network Logo. Campus Pride is the nation's leading non-profit organization for LGBT and allied college and university students.
Registration for the seventh annual Camp Pride, July 16-21, 2013, at is now open. An early discounted rate of $825 is available through May 29. Scholarships for discounted registration are also available. The cost of registration includes educational curriculum, all program materials, accommodations for five nights and meals as well as entertainment and activities. The LGBT Professional Academy for Advisors track for LGBT and ally faculty advisors is also available. Students and advisors can register online or learn more about scholarship opportunities at www.campuspride.org/camppride/.