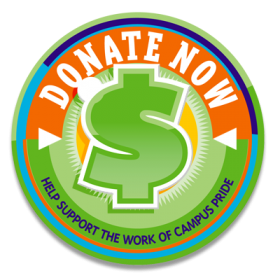 The future of LGBT equality lies in the hearts and minds of the leaders of tomorrow. Campus Pride, the only national nonprofit organization of its kind, exists to develop, support and give "voice and action" in building future LGBT and ally leaders.
Together, with your generous donation, Campus Pride can continue to build stronger LGBT and Ally leaders and safer, more LGBT-Friendly campus communities across the United States. Campus Pride offers a variety of ways for individuals and corporations to sponsor the important work we do, as follows:
1. Make a Donation.
2. Give a Monthly Donation to support our on-going work.
3. Join our 2001 Founder's Society ($1000+ annually) and become a major donor of Campus Pride.
4. Become an Event Sponsor or a National Corporate Sponsor.
5. Take part in our Planned Giving program.
6. Count your donations twice with a Matching Gift.
7. Shop with Campus Pride.
8. Be a Volunteer for Campus Pride.
If you would prefer to make your gift by mail, please send your check to: Campus Pride, PO Box 240473, Charlotte, NC 28224. For more information, please download the
Campus Pride Donor Form
. If you have any questions, please contact us at  
(704) 277-6710
. Thank you.