May 12 2015 in Voice and Action Award by Rebby Kern
Congratulations to the recipients of the Campus Pride 2015 National Voice and Action Student Leadership Awards. Campus Pride selected three winners this year for the three different student awards – Voice & Action National Student Leader Award, Voice & Action National Fraternity/Sorority Award, and Voice & Action National Athlete Award as well as the Voice & Action Advisor Award.  These distinctions honor student leaders across the nation who use their "voice" and "action" to create change and build safer LGBTQ colleges and universities.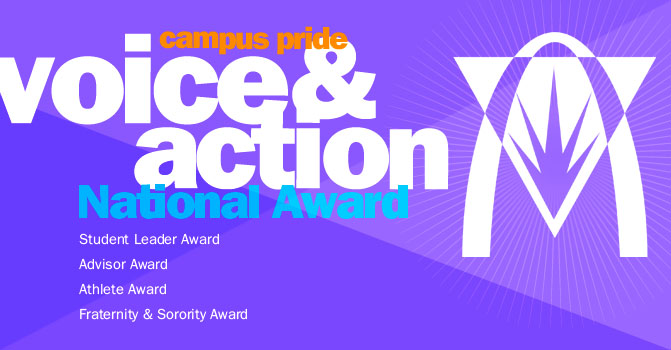 The 2015 Campus Pride Voice & Action Student Leader Award is awarded to Vanessa Gonzalez of Rutgers University.
The 2015 Campus Pride Voice & Action Fraternity and Sorority Award is awarded to Gracie Harrington of Wake Forest University.
The 2015 Campus Pride Voice & Action Athlete Award is awarded to Lauren Neidigh of University of Arizona. 
2015 Voice & Action Athlete Award

Lauren Neidigh University of Arizona '15 Lauren has been instrumental in the efforts within the athletic department at her university, striving for LGBTQ equality. She is the Director of Social Media for GO! Athletes, and an excellent swimmer. Campus Pride is pleased to award her the 2015 Voice & Action Athlete Award.

2015 Voice & Action Sorority/Fraternity Award

Gracie Harrington Wake Forrest University '15 Gracie has done tremendous work at Wake Forrest throughout her career. She is an active member of her sorority, and has led the Gay-Straight Student Alliance at Wake Forrest. One person said "Gracie inspires me to live passionately and limitlessly, because she isn't afraid to live out loud. She is reluctant to choose one path, because her potential is boundless. Her kindness permeates all boundaries, and ushers in positivity."

2015 Voice & Action Student Leader Award

Vanessa Gonzalez Rutgers University '16 Vanessa is an amazing advocate for LGBTQ students at Rutgers. Vanessa serves as a representative for the Vice Chancellor of Student Affairs' leadership cabinet, advocating for LGBTQ students. She also presides of Queer Caucus. Of her, one person said, "I have hardly ever seen Vanessa compromise when it comes to working towards creating a more inclusive and visible environment for trans, queer, and other minority students. Her passion and hard-work both within and beyond the Rutgers community has empowered me, and many other LGBTQ+ students, to dare to live our lives more authentically and to speak up for ourselves and our siblings during times of injustice."
Campus Pride is the leading national educational organization for LGBTQ and ally college students and campus groups building future leaders and safer, more LGBTQ-friendly colleges and universities. The organization provides resources and services to thousands of college students and nearly 1400 campuses annually. Learn more online at CampusPride.org.