Jul 2 2013 in Athletics, Campus Pride by CampusPride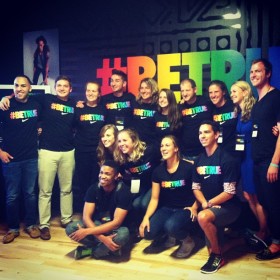 Campus Pride was in attendance at the second annual Nike LGBT Sports Summit in Portland, Oregon from June 14-15, 2013, including a contingent of NCAA student-athletes from across the country who received support from the StandUp Foundation to attend the summit. Several students shared their experiences with Campus Pride afterwards, describing what it meant to be a part of such a unique gathering of LGBT athletes.
Heather Hargreaves, a recent graduate and former rower at the University of California, talked about how much the Summit has grown in it's two years of existence. "Seeing how this conference has grown from about thirty people last year to over one hundred people this year gave me a feeling that you only get after winning a race. I thought "Wow, we are doing it, we are actually changing the institution of athletics across the country."
The summit included college and professional athletes, coaches, athletic administrators, political figures, LGBT advocates, journalists and guest speakers. Spencer Whalen, a recent graduate of Occidental College, where he was a swimmer, also received financial assistance to attend the summit and spoke about his experience meeting the first openly transgender mixed martial arts (MMA) fighter, Fallon Fox. "Fox has faced intense opposition, yet she has maintained that she is the equal of her competitors. This past weekend Fox shared her coming out experience and how it has positively influenced her and her competitors. She has demonstrated the importance of being true to oneself and others. As an athlete and leader within the transgender community, I admire Fox for her leadership."
Common themes throughout the summit focused on teamwork and the importance of community within a team. Katie Chockley, who is on the Track and Field team at Yale University, attended the two day summit as a representative of GO! Athletes, the first national network dedicated to educating, engaging and empowering every generation of LGBTQ athletes and allies. She reflected on the teamwork components of the summit: "It felt like something you'd do on a team. As I took the taxi to the Portland airport, I started to realize that's what we are. It's painfully cliché, but even though we compete against each other on the court, the field or on the water, we LGBT athletes are a team. Drawing support and inspiration from each other can be our greatest strength. Attending this conference made me realize I am so proud to be on this team."
Many of the young students-athletes who attended the summit agreed that the gathering inspired them to create change back on their campus to make athletics more LGBT-friendly. Avery Stone, who plays ice hockey at Amherst College, is passionate to take what she learned from the summit to better her community. "One of the ways we discussed making change was continuing to educate both others and ourselves. Hearing about topics that I hadn't had a change to learn about (for example, hearing Fallon Fox talk about her experience as a trans* professional athlete) inspired me to continue to educate myself about parts of my own community that I may not know enough about."
Student-athletes have already begun implementing their efforts to make athletics more inclusive, including a GO! Athletes-led campaign defending Fallon Fox against intolerant and disrespectful comments online [http://www.campuspride.org/fighting4fallon/]. Stay tuned to learn more about these student-athlete leaders and their efforts to make campuses more inclusive throughout the upcoming year.
Learn more about Campus Pride, GO! Athletes, and the StandUp Foundation  by visiting their websites.
Below are videos that student athletes created to express their voice and their experience at the 2013 Nike LGBT Sports Summit
Rose, a softball player from Swarthmore College describes her experience at the Nike Summit

Victoria plays soccer at Winthrop University and describes what she learned from the Nike Summit

Jonathon, a rower from Lehigh University reflects on his great experience at the Nike Summit